CORNELIO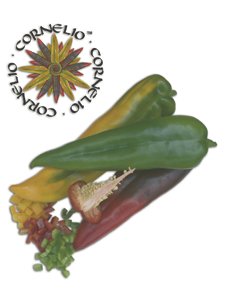 A name synonymous with quality horn-shaped peppers, not hot, available in yellow, red and green all year round. Products with this brand are grown exclusively in Italy in accordance with strict production regulations using integrated pest management methods. Available all year round thanks to the ease with which this variety is grown, both protected and out in the field. The genetic features such as flesh density, excellent flavour and particular tastes, the smoothness and colour of the skin, mean that the product is appreciated, promoting its marketing in large-scale distribution.
Last update: 14/06/2007
Photo by: ENZA ZADEN ITALIA Socio Unico S.r.l.