PEPERONE DIABLO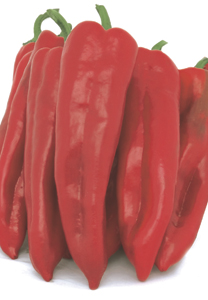 Leading variety in the "bull's horn" segment, adapt for both the market and industry. Erect standing plant, medium-tall, with short internodes. The fruit is long, straight, heavy. The flesh is an intense red colour, smooth and thick. The growing cycle is medium-early. The parthenocarpy which characterises the variety allows considerable production and facilitates setting. It lends itself well to greenhouse and open field growing. Winner for the famous Royal Horticultural Society 2005 Award of Garden Merit Certificate in England.
Last update: 01/09/2011
Photo by: OLTER S.r.l.