INDIVIE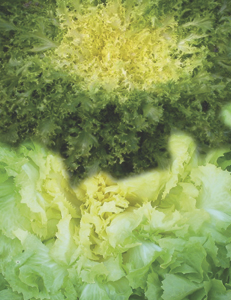 A type of salad increasingly present on consumers' tables because it is a basic ingredient of salads prepared by the processing companies which bring us "IV range" products. Here we propose varieties which guarantee product continuity and are very suitable for industrial processing. Broad-leaved endives range from spring "Tarquinis", through summer "Bomber", to autumn "Dimora" and "Seance", and winter "Santel" and to finish the early spring "Quartana" guaranteeing complete product supply. With the new products, some rough features, plant health and productivity typical of autumn and winter types are available all year round. The search for new varieties goes on, to bring important and useful innovations to prickly and broad-leaved endive production.
Last update: 14/06/2007
Photo by: ENZA ZADEN ITALIA Socio Unico S.r.l.